DataSelf Analytics Editions
Easy data extraction to cloud data warehouse

Easy report customization and distribution

Secured access on desktop, web & mobile devices

High performance (reports run under 10 secs)
All the features from Advanced Analytics

Full-fledged data warehouse

Cloud, hybrid or on-premises architecture
All features from Pro Analytics
Source Systems: 1
Companies: 1
Cloud Data Space: 10GB
Web Designer/Viewer Users: 10
Desktop Users: Add-On
Report and Dashboard Templates: Dozens
Maximum Scheduled Refreshes: 2 per day
Orange Belt Training Attendees: 2 free/year
Self-Service Training: Included
Maintenance and Support: Included
Source Systems: 1
Companies: 10
Cloud Data Space: 30GB
Web Designer/Viewer Users: 15
Desktop Users: Add-On
Report and Dashboard Templates: Hundreds
Maximum Scheduled Refreshes: 1 per hour
Orange Belt Training Attendees: 6 free/year
Self-Service Training: Included
Maintenance and Support: Included
Source Systems: 5
Companies: 25
Cloud Data Space: 100GB
Web Designer/Viewer Users: 20
Desktop Users: 1
Report and Dashboard Templates: Thousands
Maximum Scheduled Refreshes: 1 per minute
Orange Belt Training Attendees: Unlimited
Self-Service Training: Included
Maintenance and Support: Included
Terms: Month-to-month contract. Yearly Subscription = 11 x Monthly Subscription with 60-day money back guarantee.
Change of Order: After your DataSelf has been deployed, order Add-Ons, change or cancel your subscription by contacting your DataSelf VAR, or contact us.
Prices per month:
Source System: $99/each
Company: $49/each
Cloud Data Space: 10GB $29; 100 GB $229; 500GB $799
Web Designer/Viewer User: 10 users $89; 20 users $159; 40 users $289
Desktop User: $169/each
Or a la carte: DataSelf ETL+ user: $99/each; Cloud MS SQL Server user: $29/each; Tableau OEM Desktop user: $59/each
Shared Workbook: $29/each
50 Scheduled PDF Email Recipients: $49
Orange Belt Training: $299/attendee
Editions: Come pre-mapped to your source system. Includes DataSelf ETL+ for full and delta data extraction and the editing of pre-mapped tables. Multi-tenant AWS cloud with MS SQL Server & Tableau Server. Contact DataSelf for dedicated or on-premises environment. All user licenses are named (each person must have their own license).
Source System: ERP, CRM or other raw data source systems (plus unlimited Excel & CSV files). Pro and Enterprise Editions include the data warehouse as a source system.
Company: A specific source system database such as a MS SQL database, an ODBC DSN, or an OData URL.
Cloud Data Space: Measured by the data warehouse SQL data space used. Typically, ranges from 5% to 20% of the size of your source system database (data space without log).
Web Designer/Viewer User: Viewing, receiving scheduled email reports, design of reports & dashboards on web and mobile devices. Client assigns user roles: viewing, scheduled email reports, report designer, site administrator. Includes Tableau OEM Explorer and/or Viewer users.
Desktop User: Adding new source system tables; direct access to cloud data warehouse; design of Tableau data sources; design of elaborate reports & dashboards. Requires a Web Report Designer/Viewer user. The following licenses are included and are also available A la carte:
– DataSelf ETL+ User: Easy and powerful extraction, transformation and loading of data into the data warehouse. This ETL+ upgrades the one included in the basic edition package.
– Cloud MS SQL User: Direct access to cloud data warehouse with tools such as Excel, Tableau, Power BI, Crystal Reports, MS SSMS / SSRS / SSAS. Pro and Enterprise enable SQL editing with 3rd-party tools.
– Tableau OEM Desktop User: Editing Tableau data sources, and creation of elaborate reports & dashboards. Requires a Tableau OEM Explorer/Viewer.
Report and Dashboard Templates: https://dataself.atlassian.net/wiki/spaces/DS/pages/1280376847/Report+and+Dashboard+Templates
Maximum Scheduled Refreshes: Unlimited manual refreshes. Very frequent refreshes are not recommended. Real-time refresh might be available from some source systems. Contact DataSelf to discuss.
Orange Belt Training: Monthly classes with limited seats available. Reserve your seats at www.dataself.com/training
Self-Service Training: www.dataself.atlassian.net/wiki/spaces/DS/pages/1125482515/DataSelf+Training
Maintenance and Support: www.dataself.com/brochures/DsSMP_1706a.pdf
Shared Workbook: Add-On. Ability to share a Tableau OEM Workbook with an unlimited number of users. Ex.: to use in plant floor monitors.
Scheduled PDF Email Recipients: Add-On. Emailing PDF reports on a schedule basis to users without requiring a Web Report Designer/Viewer license. Up to one Tableau OEM workbook per day per email.
DataSelf Analytics for Acumatica
Self-service Natural Language, Artificial Intelligence, Easy to Customize, Fast Performance.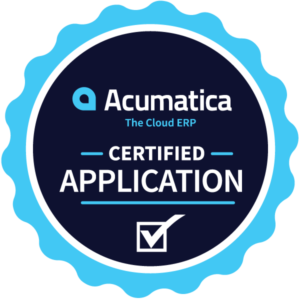 Data Warehouse
Requires one Acumatica user for data extraction. 

Click here

 for required user roles

Acumatica-certified data extraction process that causes little impact in Acumatica databases (extract burst cycles: 2 sec pull, 2 secs pausing, repeat)

After the initial data extract, subsequent overnight refreshes only extract new and updated records

Upcoming customizations:

User-controlled data warehouse remapping

Changing auto refresh schedule

On-demand data refresh. 

Easy upgrade from DataSelf Advanced to Pro to Enterprise editions at any time.
"All of our end users have received DataSelf with applause and 'wow moments' on their end. It's the
best ETL product I've seen."
Tom Vance, Vice President of Operations, SWK ."
"After running the powerful combination of DataSelf Analytics with Acumatica for a short season, I'm extremely impressed with the results including a 23% growth in EBITDA year over year. Our DataSelf reports and dashboards give us more visibility into our data than we've ever had, which has led to better and more timely decisions to grow our business."


Peter Paindiris,

President, Teknikor Contracting, Inc.
"DataSelf has the ability to quickly translate questions into solutions because of the data sets they've already established. It dramatically improves the time to insight."
Nigel LeGresley,

CFO, Acumatica
DataSelf Analytics leverages data warehousing and Tableau to displays your KPIs inside Acumatica. 
Available for popular web browsers as well as mobile devices using Android or iOS.
Highly Customizable
One of the most empowering features in DataSelf Analytics for Acumatica are highly configurable dashboard views and capabilities that give you a nearly endless number of ways to slice and dice data. 
Natural language queries.

Secure access via web browser and mobile device (native apps for Android and iOS) over the internet.

Extensive slice-and-dice, filtering and drill down features.

Geographical trend analysis through maps.

Automatically distributing reports and dashboards to licensed users by email on schedule.

Data alerts (notify by email when a threshold has been crossed).

Export reports via PDF, Excel, PNG, and Power Point.

Save custom views.

Create, modify and publish custom reports, dashboards, and projects (folders).

Access and download underlying data.

Comment feature for team collaboration.

Control user access to reports, dashboards and data sources.

Independent user credentials. Add-ons: MFA and SSO.

One-click open of Acumatica pages directly from reports and dashboards.

Embed DataSelf Analytics reports in Acumatica.

Details here

.

Embed DataSelf Analytics pages into other applications via Java code and iFrame.
System Architecture


DataSelf Analytics leverages data warehousing, optimized Acumatica-certified ETL (extraction, transformation and loading) processes, AWS (Amazon Web Services), Tableau (and Power BI soon), and a rich set of templates to Acumatica to deliver natural language query, artificial intelligence, machine learning, and insightful and interactive reports and dashboards!
It's easy to customize the solution to your specific custom needs. Customizable Generic Inquiries (GIs) control what data is extracted from Acumatica. And Tableau provides a robust, secured, easy-to-use, and well documented analytics interface. At the end of the day, users can easily customize the data extraction, create and modify their reports and dashboards, and control user security access.
What's more, it takes about 15 minutes to deploy (click here to deploy now!)!
Contact our Acumatica BI Experts!
Fill out the following form and one of our cloud analytics experts will contact you shortly.