Webinar: What to know before you go
Jan 16, 2020 11:00 AM PST
Conferences can get pretty hectic. It's always best to plan your agenda ahead of time so you can make sure to accomplish all your goals for the event.  Join APS Payments, Paramount Workplace and DataSelf for a webinar before Acumatica Summit to learn how you can get the most out of your attendance at the event.
Target audience: Everyone interested in Acumatica.
DataSelf for Acumatica Webinar
Get a sneak peek at what we'll be sharing at Acumatica Summit 2020
Jan 21, 2020 09:00 AM PST
The webinar covers:
Must-have reports and dashboards for unparalleled insights into your cash flow, AP, AR and sales
DataSelf Lite or DataSelf Enterprise
Popular customizations
NEW Construction templates
NEW Distribution templates
Exporting and distributing reports
Pricing (We are e

liminating individual named user licenses across BI!)
Target audience: Everyone interested in Acumatica.
Acumatica Construction Pre-conference Meeting
Details coming soon!
SWK Pre-conference Meeting
Details coming soon.
Chalk Talk Session
Lite'ning Fast KPIs in Acumatica, by DataSelf
Monday, January 27, 2020, from 3:30pm – 4:20pm in the Nolita #2 Room on the 4th floor of the Cosmopolitan Hotel in Las Vegas.
Speaker: Joni Girardi, DataSelf Founder and CEO
Chalk Talk Session
How to get Engaged with acu-connect
Monday, January 27th 4:30-6pm PT in the Nolita Room #3, Cosmopolitan Hotel
Learn about the new resources available via acu-connect
Learn ways to get involved in this new community
Hear from current members the value they've received from the group
Ask questions of the acu-connect Board & Committees
Breakout Session 
Best Practices for Co-Selling with ISVs in a Cloud Marketplace
Tuesday, January 28, 2020 from 1:00 pm – 1:50 pm, Brera 1/2 room
Presenters: Christian Lindberg, Joni Girardi, a VAR Representative
ISVs play a critical role when meeting customer demand and providing end-to-end solutions, specialized for specific industries and workload processes. Based on real examples with customer wins, learn how to structure your offerings for maximal competitive edge, what works well and which pitfalls to look out for.
Chalk Talk Session 
Reporting and Dashboarding for the Modern Business by Velixo featuring DataSelf
Tuesday, January 28, 2020 from 10:15 am – 11:05 am, Castellana room
Interested in learning about different tools and technologies available in Acumatica to help you create clear, unified reports and dashboards? Join Gabriel Michaud, Founder of Velixo, as he shares how to tackle the ever growing amount of data businesses are generating and collecting.
See What's New at Booth #29
Construction Templates & Distribution Templates
DataSelf will be releasing our empowering Construction templates and Distribution templates at Acumatica Summit 2020! See DataSelf Lite and Enterprise for Core Financials and Distribution. 
Discover BI for Acumatica
Self-service BI and data discovery tools with 5,000+ reports, dashboards and KPI templates
Data warehousing that stores your data comprehensively for real-time reporting
Instant access to data with pre-configured connections to all of Sage ERP / CRM systems
80% reduction of labor-intensive reporting
Anytime, anywhere access
Natural language query
Book Your LIVE Demo
Set up a live demonstration of DataSelf during Acumatica Summit at Booth B29! We have 15 appointments available and would love to reserve some time for you.
After Summit
Acumatica VARs DataSelf Lite NFR Training
Sign up to get

a free DataSelf Lite NFR

license.
January Classes: Sold Out
Feb Classes: Jan  11, 13, 18, and 20, from 12:00pm to 2:15pm PT
Mar Classes: Mar 17, 19, 24, and 26, from 01:00pm to 3:15pm PT
Training Cost: US $149 for all 4 parts. Fees include a free NFR Site for six months.

1,000,000+ ways to slice and dice your data at an affordable price point.
DataSelf Lite for Acumatica starts at $299/month. 
Unlimited User License Coming Soon!
Named-user Licenses Included (Details):
Explorer: User who creates, edits, and customizes reports
Promo: 5 FREE Viewers through 03/31/20: Slides and dices reports
Acumatica Dashboard Examples:
The 360-View Dashboard provides management with a single place to monitor the organization's main key performance indicators, and easily slice and dice trends to uncover threats and opportunities. From the main page, management can easily drill down into details about their sales, cash flow projection, AR and AP aging. All of this is also available in mobile devices using Android or iOS.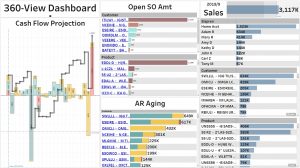 The Salesperson Dashboards lets the sales team analyze trends by customer, product, salesperson, branch, and region. It's easy to identify and analyze top and bottom performers as well as drill down to details.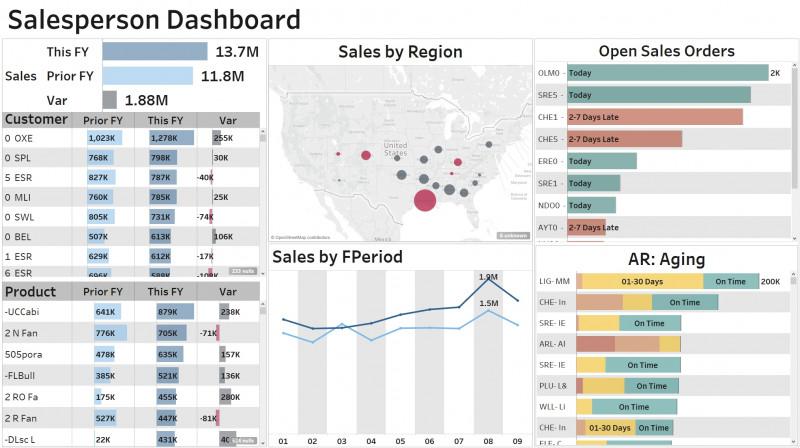 AR Aging Dashboards provides you with simpler and clear visibility into who owes you money, who the acct managers are, trends analysis, where the money is coming from, as well as the ability to interact and drill down to details.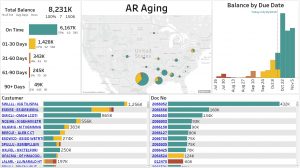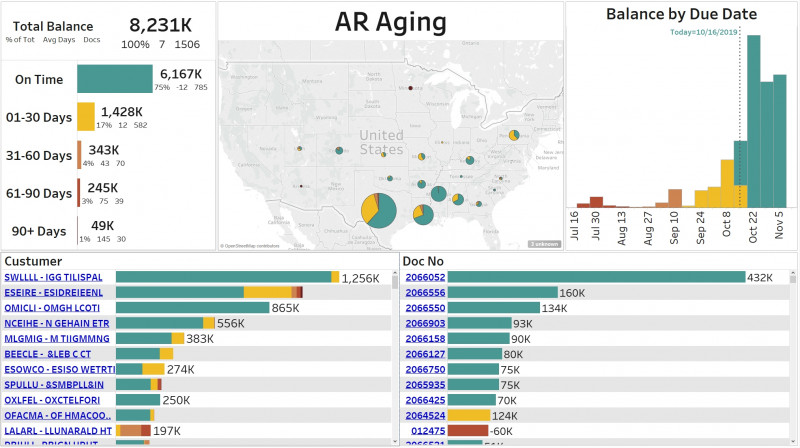 DataSelf Slicer query platform (patent pending) allows any user to slice and dice their data in over a million ways with no training required! You can drill down to details, and variations can easily be saved for future use.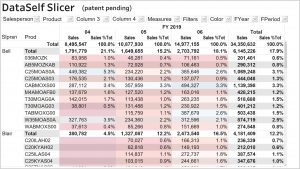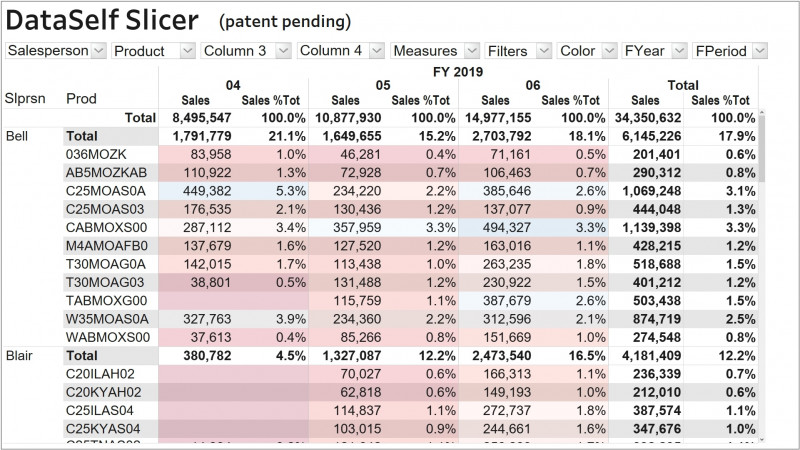 DataSelf Lite works with Acumatica versions 2017 R2, 2018 R1 / R2, 2019 R1 / R2.
ORDER IT NOW directly from Acumatica Inc, or from your DataSelf reseller. 

A full-fledged enterprise data warehouse, and
a zillion ways to slice and dice your data
DataSelf Analytics Enterprise for Acumatica Starts at $799/month.
Unlimited User License Coming Soon!
All the benefits from DataSelf Lite.
5,000+ report and dashboard templates covering AP, AR, GL Financials, Inventory, Project Accounting, Purchasing, Sales, Sales Orders, CRM and other business areas.
Full-fledged data warehouse that can be fully customized to address data consolidation, cleaning and preparation needs. Includes a wide set of features to efficiently and quickly handle large data volumes.
And so much more!
Acumatica Dashboard Examples: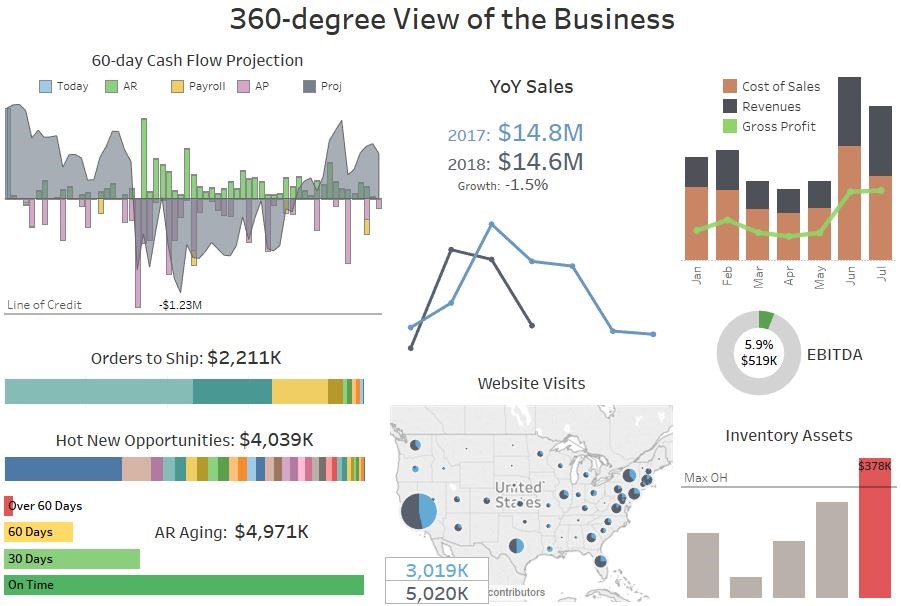 Give each decision-maker their own 360-degree view dashboard. They'll be able to easily access key  performance indicators across all data silos and drill down as needed. This example shows a C-level  dashboard gathering data from the ERP, CRM, Google Analytics, Payroll, and Excel.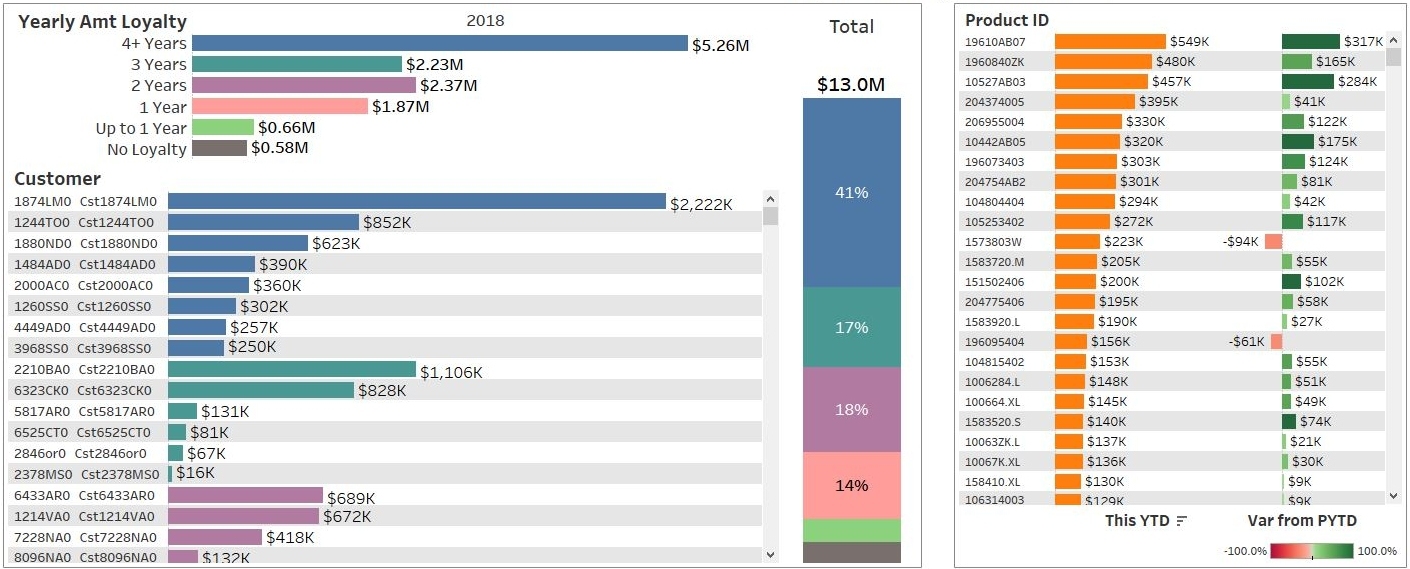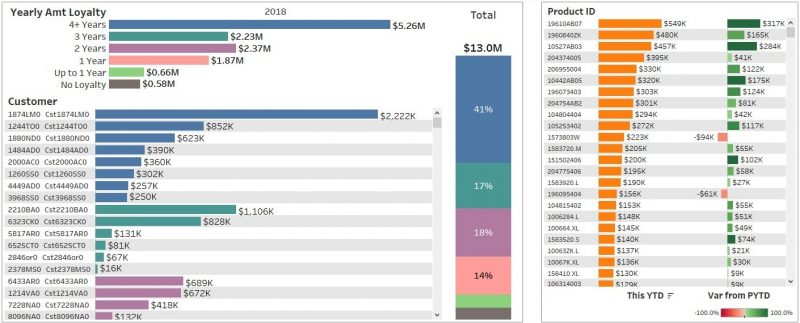 See customer loyalty and allow drill-down into products driving the trends. This example shows  loyalty friction in years 2 and 3 for a department that was focusing commissions on customer acquisition. After adjusting commissions, their long-term loyalty went up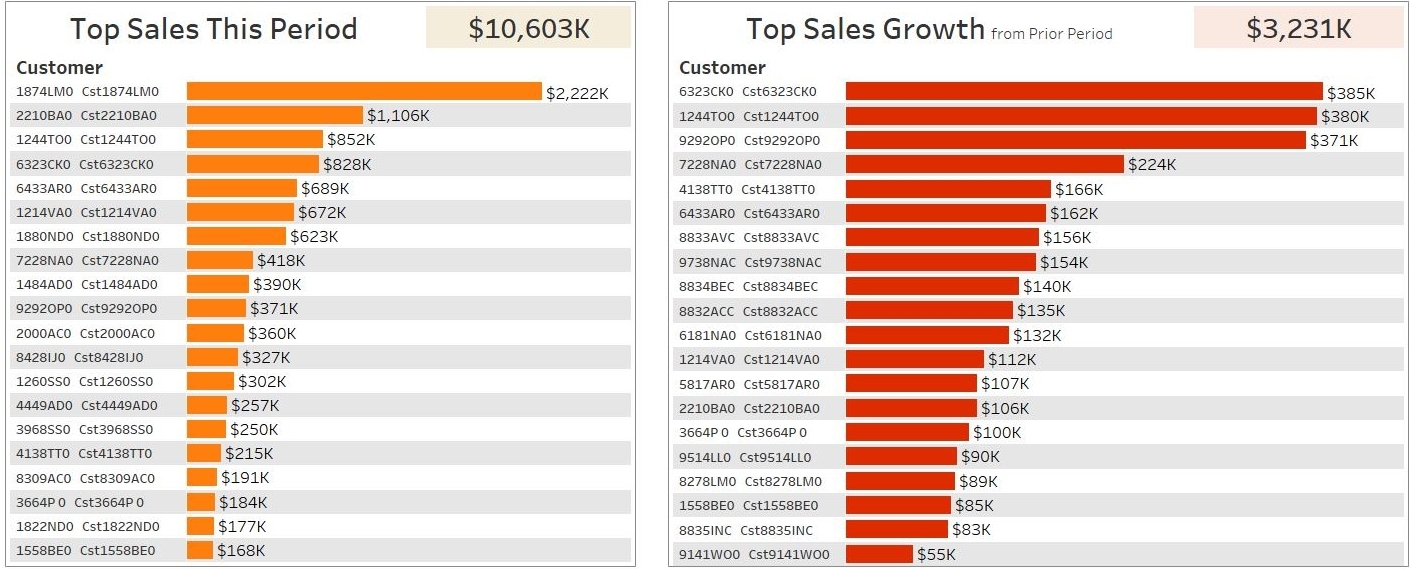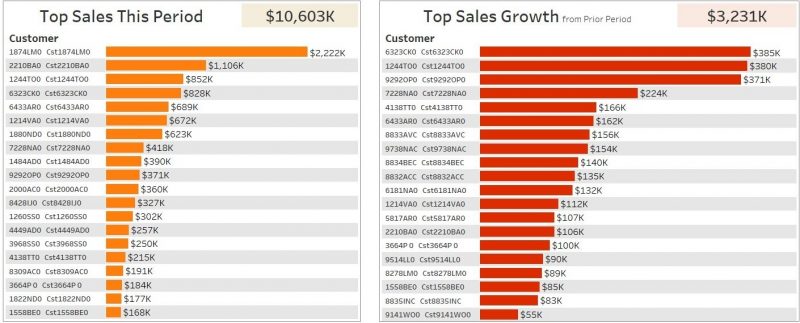 See customers with top sales and growth during this period. Users can easily change the period (e.g., Year or YTD, Month, Week, Last 30 Days) and measure using drop-down lists. There are similar reports by product and region, as well as top decline and no sales from prior period.
DataSelf Enterprise works with Acumatica versions 2017 R2, 2018 R1 / R2, 2019 R1 / R2.
ORDER IT NOW from your DataSelf reseller or contact us to learn more.