KPIs help distribution companies minimize supply chain inefficiencies and analyze sales to maximize profits.
You've got departments hungry for insightful data. We've got easy-to-use solutions to feed every one of them. And to get started, the complete DataSelf BI solution comes with 5,000-plus must-have report, dashboard and KPI templates predefined – how's that as a starting point?
Here are some of DataSelf benefits for Distribution companies:
Easy and timely visibility into status, processes and trends.
Automated notifications of business events.
Self-service reporting and KPIs.
Demand planning and forecasting.
Visibility from the supply chain, internal processes, and order shipment.
Ability to consolidate all touch points of customers and products. For instance, monitoring client website visitors, CRM opportunities, orders, sales, shipments and social media interaction all combined in dashboards.
Natural language, artificial intelligence and machine learning applied to reporting and analytics.
Automation of data extraction, preparation and report distribution.
Access to the information anytime and anywhere.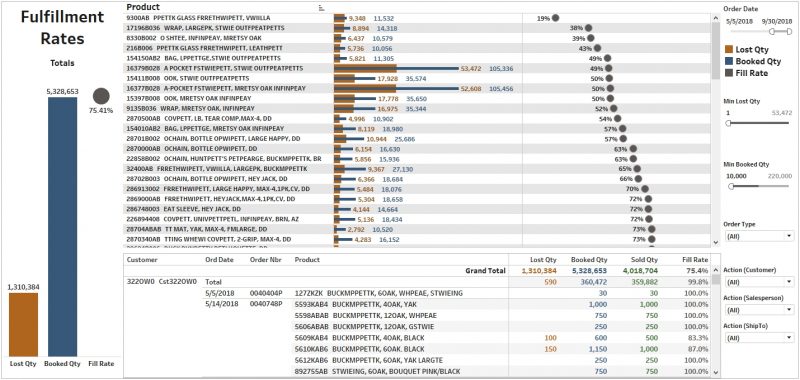 Inventory Analysis
Too many companies have lopsided inventory: too much of some items and too little of others. Or they make too many inventory transfers and spend too much dealing with them. Analyzing historical trends in detail can be a critical step toward big savings.
Inventory Projection
With inventory projection, you learn from your history and use the lessons to fine tune inventory for the future. Inventory projection can provide numbers based on several parameters, such as product, location, and any time granularity down to the day level.
Inventory Replenishment Planning
Inventory replenishment builds on inventory projection. It will not only forecast your inventory needs but also indicate from whom you should buy and when. Inventory replenishment can provide numbers based on several parameters, such as product, location, and any time granularity down to the day level.
Sales Analysis
Tough times? Focus on smarter sales! See at a glance who's buying what, where you're making the most profit, which products or customers are declining or growing the most, which customers are no longer buying, and lots of other insights. The solution is so easy to use that sales people can slice and dice sales data on the fly. Our 500-plus report and KPI templates for sales analysis make it a cinch to form a tight fit, no matter how unusual your operations. It's a managers' dream.
Purchasing Analysis
To buy smart, you have to know your purchasing trends. But too often, sales-driven companies don't track them. This module makes it easy.
Consolidation and Data Integration
Do you need to integrate data from several data sources for analysis? DataSelf BI can do it for you. You may have a multi-company environment or other business applications. DataSelf BI will provide you with a user-friendly and single place for all your reporting needs.
Multi-Currency
Feeling lonely? No wonder. Mid-size applications usually provide only limited support for multi-currency frameworks. DataSelf BI can significantly improve the reporting of your multi-currency environment.
The Uniqueness of Your Needs
This is all a great start! However, all modules can be adapted to your specific needs. On average, 70% to 100% of non-technical users can adapt report templates and KPIs without technical help—faster than it takes to eat a donut.
8,000 Report Templates and KPI's Included with DataSelf
IN Inventory On Hand (300 KPIs)
Current On Hand values and quantities by item, item groupings and warehouse/location.
IN Inventory History (460 KPIs)
Inbound and outbound inventory moves over time, cost and quantity. Might require custom work.
IN OH by Month (50 KPIs)
Historical On Hand trending by item, item groupings and warehouse/location.
PO Open Purchase Order (510 KPIs)
Outstanding purchase orders by vendor, product, warehouse/location, dates, etc.
SA Sales Analysis (1,300 KPIs)
Invoices (sales, qty and GP) by customer, acct manager, product, address, ship to, location/warehouse, etc.
SO Sales Order (2,430 KPIs)
Open and booked orders by salesperson, customer, product, customer address, ship to, location/warehouse, etc.
What people say about DataSelf for Distribution
"Being an old dog, I know software that meets one's expectations is rare. DataSelf BI has far exceeded mine. We bought it for its world-class sales reporting, and now I'm saving up to $500,000 annually because I also use it to manage my inventory and purchasing more effectively."
"I was too busy for training. When I need something new, I just take an existing report and modify it to suit my needs. If I'll ever need it again, I do a 'Save As'. Sure, I could get training. But now I just muddle through it, and I have what I want when I need it, so I'm happy."
"In the produce business, things change fast. With DataSelf BI, our business data becomes live. I can bend the data, shape it, move it around. It becomes live in ways that a piece of paper just can't."
How do I get DataSelf for my distribution company?
Call 888-910-9802 x1 or email Sales @ DataSelf.com