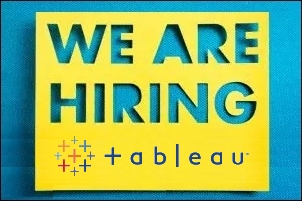 Visit all of our job openings at https://www.dataself.com/careers/
Job Description: Tableau Expert
DataSelf is on a mission to inspire data-hungry people in mid-sized organizations. Our team is passionate about how data geeks and our tools can enable people to easily make better-informed decisions. This involves a focus on science, art, psychology, business, and technology.  Learn more at https://dataself.com.
We are seeking to hire a talented and passionate individual with 3+ years of experience in:​
– Extensive experience working with Tableau.
– Experience connecting Tableau to data sources (such as MS SQL Server). ​
– Business analyst role: Working with data-hungry people and addressing their data analysis needs. Being able to discuss, translate, and bring together critical information that can be extracted from the data.​
– Preferably with reporting experience from one or more of the following systems: Acumatica, HubSpot, Google Analytics, Infor CRM, Microsoft Dynamics, NetSuite, Sage ERP and CRM, Salesforce.com.​
Other attributes: ​
– Preferably for a full-time position, but we're also open to part-time.
– Comfortable working remotely (from a home office or a nearby work-share facility).​
– Excited to learn new skills, both guided and self-taught.  ​
– Desire to work in a small (30-person) fast-paced and fast-growing company to help accelerate its growth as it broadens its market reach.​
– Exceptional problem solver with the ability to transition between detailed data and high-level insights. ​
– Strong interpersonal collaboration skills.​
DataSelf offers competitive compensation, an excellent health care plan, significant professional growth, a flexible work environment, unlimited vacation, 401K plan, and a growing team full of motivated, collaborative, fun colleagues.​
Please email your resume and why you want to join our team at careers @dataself.com.