Tableau, Power BI and Data Warehousing on day one with simple pricing models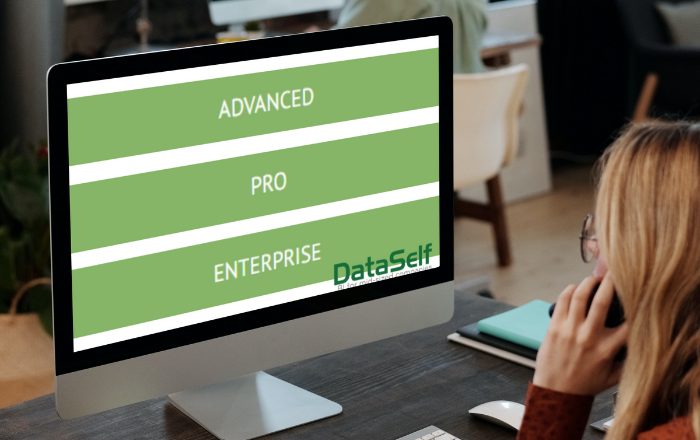 Santa Clara, CA –6/24/2021– DataSelf, Inc., the mid-market leader in business analytics and data warehousing software, today announced a simpler pricing model to allow mid-size organizations take advantage of best-in-class data warehousing and analytics with Tableau or Power BI.

Starting at $99 per month, organizations can deploy DataSelf ETL+ to tackle slow and/or complex data extraction needs. And for $399 per month, they can deploy a complete enterprise-wide analytics solution covering critical reports and dashboards for areas such as AR, AP, GL, Inventory, PO, and Sales. 
Clients can now choose from one of the following DataSelf Analytics Editions: 
Advanced –

for $399/month, you will get DataSelf's top 30 most prevailing reports and dashboards for AP, AR, GL, Inventory, PO, Sales, and CRM (if applicable), plus 20 users of your choice. Deploys in minutes.

Pro –

get more for $999/month; you will receive DataSelf's 500+ must-have reports and dashboards and 20 users of your choice.

Enterprise –

get it all for $2,499/month; you will receive DataSelf's complete library of 5,000+ reports and dashboards and 20 users of your choice.

DIY

– at $199/month, begin building your own analytics from scratch utilizing DataSelf's reliable ETL+ and then leverage the fast and secured power of Tableau or Power BI. Deploys in minutes.
Clients can customize their packages with optional Add-On features such as additional users, source systems, multi-company consolidation and data refresh frequency.
"Our month-to-month contracts and money-back guarantee reduce financial concerns. Most importantly, we're bringing Gartner-level BI technology so mid-sized organizations can go from traditional reporting to BI in minutes, empower their users with insights from their data anytime and anywhere, and with minimal impact in their IT, resources and bank account. It's great news for data-hungry decision makers!" said Joni Girardi, DataSelf Founder and CEO.
Check out all the details at https://dataself.com/pricing. 
###
About DataSelf Corp.
DataSelf Corp. is based in Santa Clara, CA and provides turnkey analytics, business intelligence, and data warehousing solutions to mid-sized organizations. From basic to complex reporting and dashboards via Tableau, Power BI, and Excel, DataSelf's solution is scalable and integrates with Acumatica, HubSpot, Infor CRM, NetSuite, Microsoft Dynamics 365, Quickbooks, Sage 100, Sage 300, Sage CRM, Sage Intacct, Sage X3, Salesforce.com, and other systems to empower key stakeholders through the visualization of critical data across their business. For more information, visit https://www.dataself.com.