Welcome to DataSelf ETL+
Self-service, secured, simplified, cloud-based, and customizable. Starts at $299/month
UPCOMING WEBINAR
DataSelf ETL+ for VARs Webinar
Nov 12, 2020 08:00 AM Pacific Time
Smart and timely decision-making requires easy access to corporate data anytime and anywhere. DataSelf ETL+ is a self-service data extraction and data warehousing tool designed from scratch to make it quick and easy to bring disparate data silos together such as your ERP, CRM, e-commerce, Google Analytics, payroll and other sources.
Join us for the DataSelf ETL+ launch webinar and see:
Advanced Analytics powered by DataSelf ETL+, data warehousing and Tableau (Power BI soon)
Easy integration of disparate data silos
Legacy data migration simplified
Deployment in minutes
Self-service customizations

Advanced Analytics Powered by DataSelf ETL+ for
ETL+ Features (initial release)
Secured data extraction and analytics

Includes dozens of critical reports, dashboards and KPIs (powered by Tableau, and Power BI soon)

Self-service customizations

Cloud-based with on-premises and/or cloud source systems

Transparent cloud data warehouse

Anytime and anywhere ETL+ metadata maintenance (requires a Windows computer and internet access)

Powers Advanced Analytics for the ERP and CRM systems above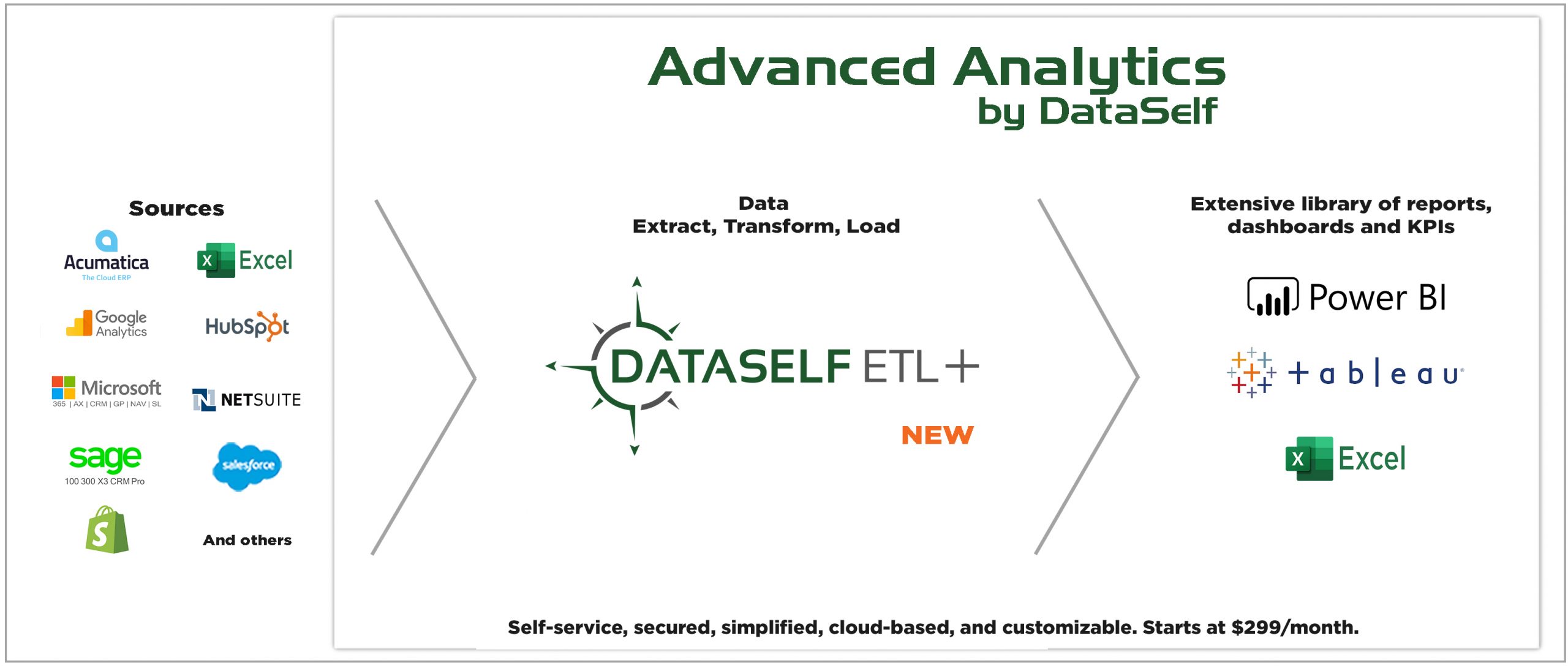 Here are some of the additional features coming up: Anytime and anywhere full ETL maintenance; delta data refreshes; on-premises and private cloud deployment; integration of multiple data sources; multiple refresh batches; web-based UI; wizard-driven UI (with Advanced mode for SQL statements); Machine Learning (ML) and Artificial Intelligence (AI) for auto diagnosis and performance fine-tuning; Azure BI stack integration; full-fledge data warehouse; back-to-back metadata management; comprehensive out of the box integration for a wide variety of data sources such as Google Analytics, Google Ads, HubSpot, Salesforce.com, Shopify, Magento, Amazon market place, AWS, Azure, Paychex, Facebook, Instagram, LinkedIn, Twitter, Quickbooks, Sage Intacct, SAP Business One, Sugar CRM.
Stay tuned.
How Can ETL+ Help Your Business?
Bridge data silos and mobilize data to bring about more a-ha moments in your business. With ETL+'s cloud transparent data warehouse, securely access and share data with team members, customers and business partners.
How do I Get DataSelf ETL+ for My Business?
Request a call from our Data Warehousing Experts by completing the form below.