There's an old Swedish proverb that says, "The best place to find a helping hand is at the end of your own arm." This is not only true in life, but it's also true in the case of reports and dashboards!
When users of BI reports or dashboards report having problems, they usually say the following are their biggest challenges:
Waiting or winging it

: Users need reports refreshed to get the latest information at their fingertips. Too often, they don't have it. This means they must come up with a decision based on reports that aren't available. They either must wait or ask a consultant for a customized report. This can take hours, days, or even weeks. Or, they may have to wing it. This means they'll make decisions without proper information. Either way, waiting or winging it is not the best choice.

Too slow to refresh

: Sometimes users do have the reports, and the reports do have information. But, when they press the refresh button, it just takes too long to refresh. Sometimes it'll take several minutes, or sometimes even hours. I've heard many stories where people must run reports overnight, because otherwise it just takes too long and can bring down data sources, like the ERP system. So, running too slowly is another challenge that I hear people voice often.

Can't customize reports

: Business changes rapidly. People need to take existing reports, slice and dice them, drill down to details, or even create reports from scratch without having to call a consultant. Because if they can't find the answer themselves and must call someone, most likely it'll take a long time to get the answer. Then it goes back to waiting or winging it. This is the most popular challenge I hear users voice when it comes to their own reports and dashboards.
What do users want from their reports and dashboards?
Information anytime and anywhere

: Users want to be able to access reports when and where they need them. Sometimes, that may be on their desktop. It might be on a browser or maybe on their mobile device—anytime, anywhere, they might have questions they need to find the answer to. So, giving users the information they need by email, on their own schedule, is what they want. You need to have a platform that provides that kind of mobility, delivering information in different ways and in different formats.

Fast reports

: Reports must run in seconds. No matter how much data you have, if a report takes more than 10 seconds to run on average, that's too long. So, you need a reporting platform that will deliver reports in seconds.

Customizable

: Being able to customize your own reports and dashboards is critical for efficiency and user adoption. This platform must be easy to use, so that users can learn to do things that would otherwise require consultants and precious time. In our experience with the DataSelf platform, users, or someone on their team, can handle more than 70% of their own custom reporting needs. These are changes that would require experts on other platforms. This simplicity and customizability is also critical to user adoption, because if a user is unable to customize a report to their specific needs, they will say it doesn't help them and move on.
A Salesperson Dashboard
Let's look at three examples of self-service reports and dashboards using DataSelf.
The first example is an out-of-the-box dashboard for salespeople.
Here, we have metrics that are critical to a salesperson's success and important to watch every day.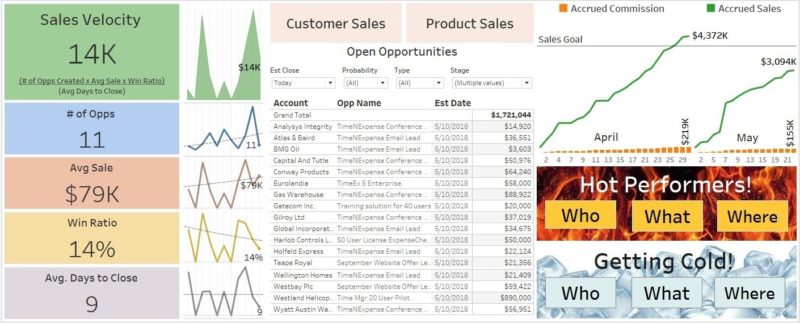 At the front and center is information about what the salesperson needs to do today. On the right is their commission information. This is their actual commission from sales on a daily basis. In the bottom right they can see the hot and cold performers.
The idea here is to see who's hot, what's hot, and where it's hot, as well as who's getting cold, and what's getting cold.
If you want to see who's hot, you just click the Who button, and it takes you to the following report out of the box, with two ways to look at who's hot.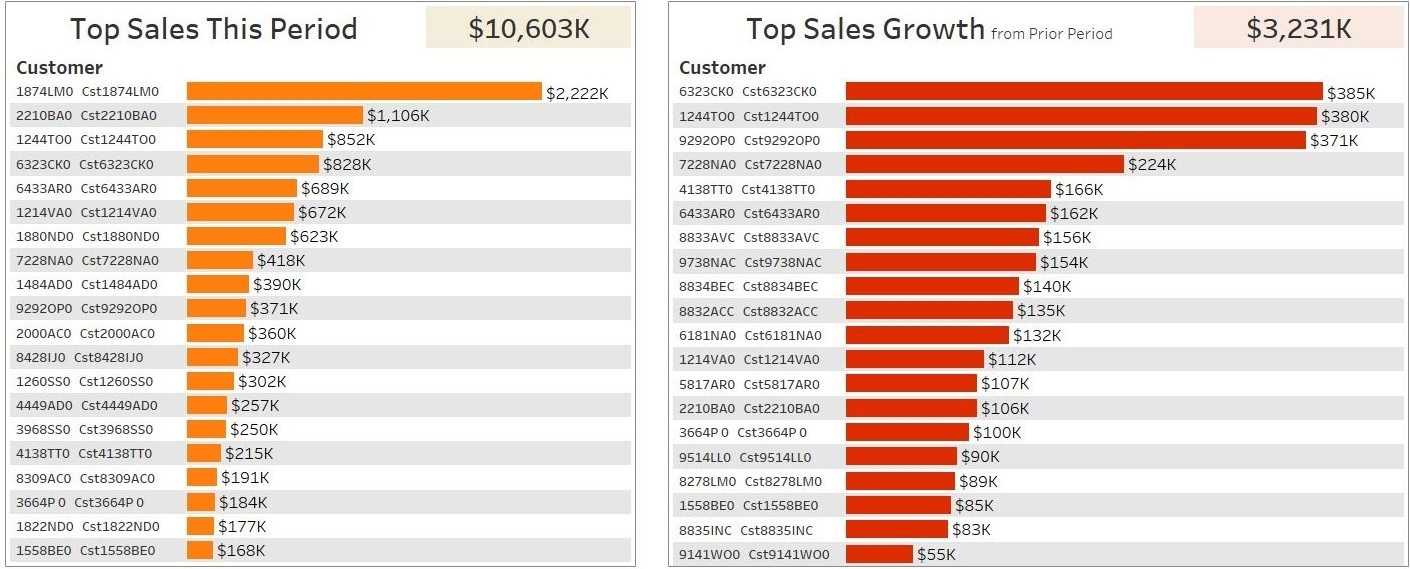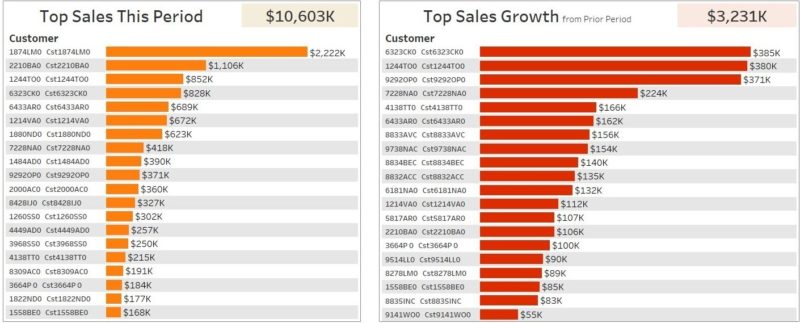 The first report shows top customers by sales this period, in a descending order.
The second report shows top sales growth since the prior period. These customers may not be big clients yet, but they're growing very rapidly. That's why we call them "hot".
How do we define the period? Well, you can choose out of the box to view the period as year, quarter, or month. In this example, we're looking at year to date.
These are the top customers by sales growth. comparing this year from the beginning of the year to now against last year to this date.
Maybe you also want to see who's getting cold. Just choose Who's Cold from the menu.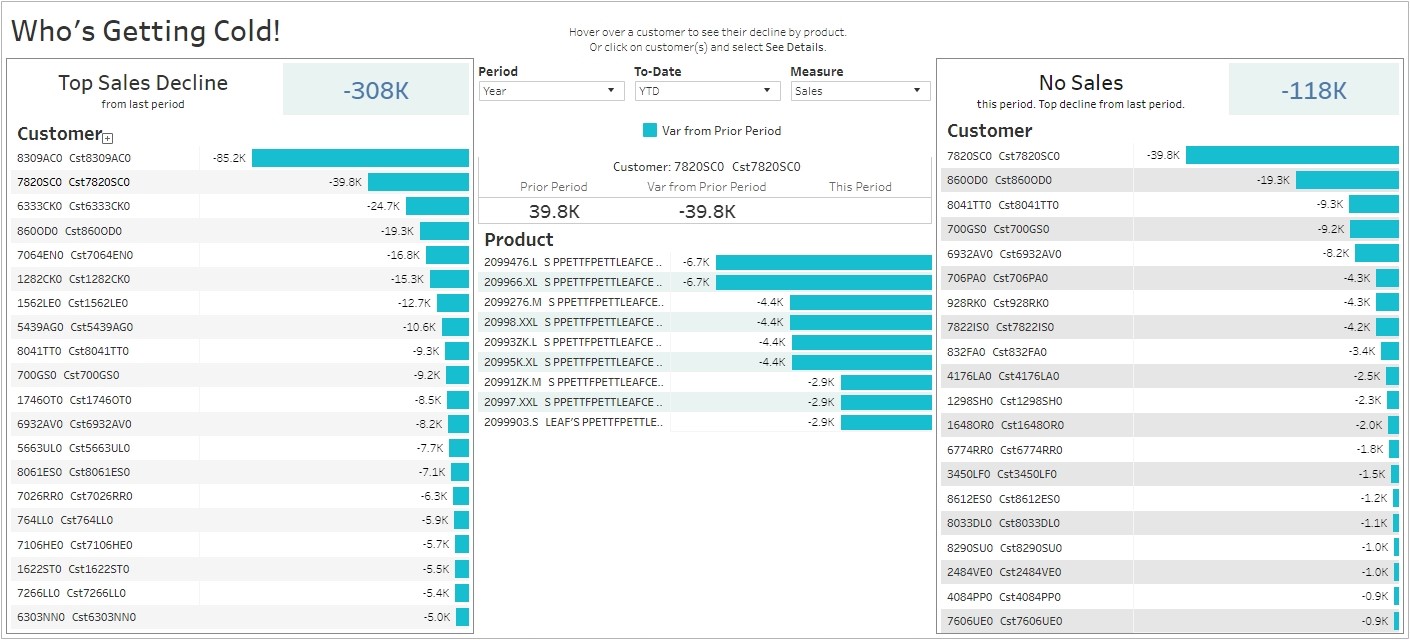 This is the same perspective, but now you have top customers by sales decline since last year to date.
If you put your cursor over each of these customers, in the center area it shows which product or services are driving the biggest decline since last year to date.
On the right side I have an exception report showing no sales. These were the customers that were buying last year to date, but not at all this year to date, in descending order.
This is one example of a self-service dashboard where users can use drop-down lists to view different things and view them from different perspectives.
A 360-Degree Dashboard
This second example of a self service report was developed by C-level executives for C-level executives.
In this case, you're looking at an out of the box report that shows a 360-degree view of the business. Here, we have information coming from several data silos.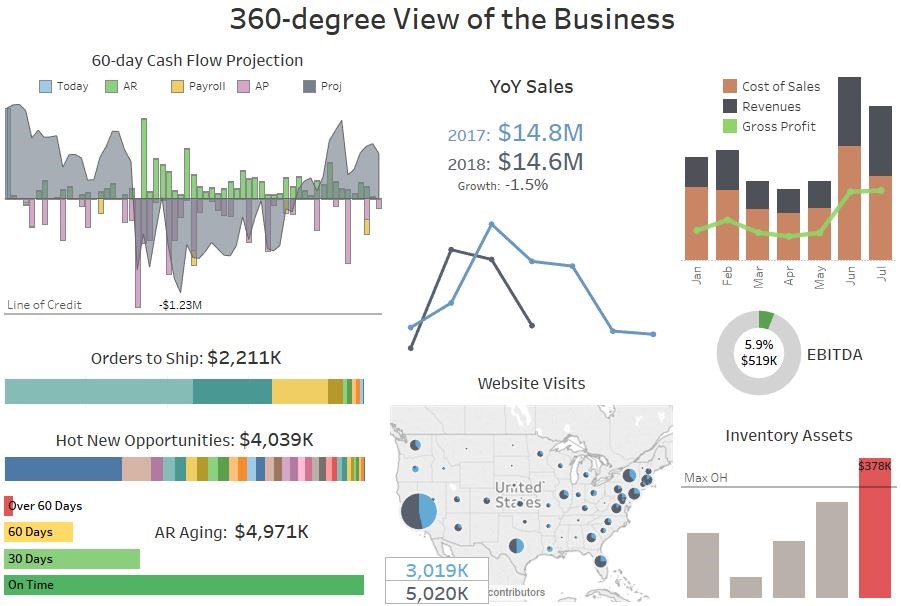 On the top left is a  60-day cash flow projection. You can see your receivables, your payables, your payroll, and your cash on hand today.
When you add all the inbound and outbound money, you can see what the projection of your cashflow will be for the next 60 days.
If the most negative amount doesn't cross your line of credit, you shouldn't have a problem.
So, this is a quick and easy way to see how your cashflow is doing.
It's important for this dashboard to be actionable. For example, we have built in a what-if scenario in this cash flow. For example, what if I'm looking at this dashboard and I know that a payment is not going to come in. I can exclude the payment and see if that will affect my cash flow, and then do something about it.
Being able to use these dashboards to explore such what-if scenarios will make these dashboards not only informative, but actionable. They help you make better decisions in a timely fashion.
The left side of the dashboard shows lead metrics, which are metrics looking to future transactions. On the right we have lag metrics. These are metrics about the past performance of the business, like revenues, Google Analytics, and more.
Overall, we use red colors as an alert. For example, in the case of inventory in the lower right, my inventory assets are too high. Why is that?
I'm wondering if this is being taken care of. Do I need to contact someone to take care of it? Well, typically, if you see something isn't doing well, you'll want to learn more about it before you act.
You can click on the red bar, and this will drill down into a more detailed segment of the dashboard that shows inventory information.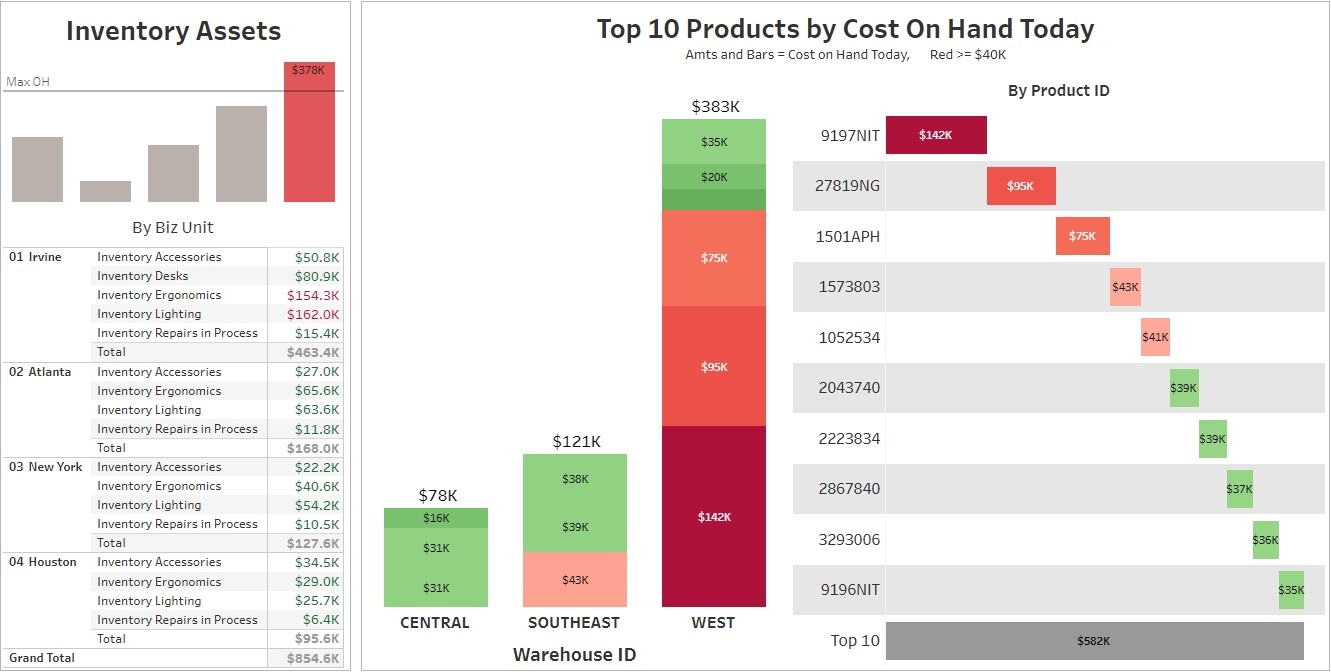 This shows inventory by business unit, and the top 10 products by cost on hand today.
In this example, it's about $40k. It shows as red because it's above my threshold.
Now, notice that most of my excess inventory is in the West warehouse. I may want to contact that warehouse manager. In real life, if you'd need to contact someone, you may not know who the person is, or you may not have their phone number or email address. You might have to spend some time just trying to figure that out.
Instead, with these dashboards, you can just click on a label, in this case the West warehouse, and you'll have a link to email or call the manager.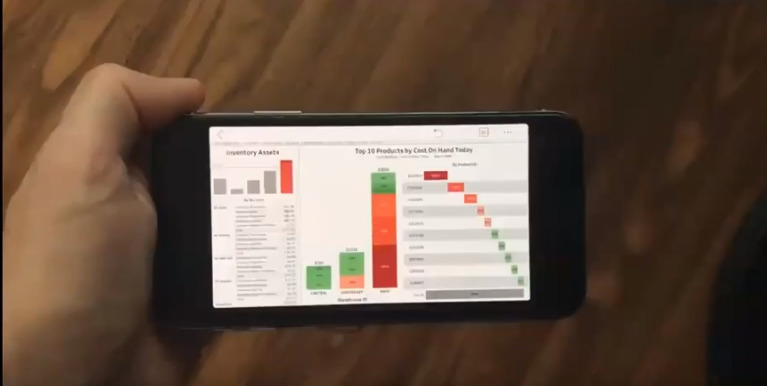 If you do this from a cell phone, you can:
Visit the dashboard from your phone

Click on the red label for West warehouse

Click to call the manager
The app will place the call right there from the smartphone.
Customizing Dashboards
The last self-service example is when a user needs to see something different than what is available in an existing report or dashboard.
Let's say that you want to add to the dashboard above a chart showing your sales and profitability by month over time.  With a true self-service BI dashboard, users should be able to do this.
In this example, I'll click the Edit button. I want to create a new sheet from scratch, so I'm going to click on New Sheet. This gives me access to my data panel.
Here, based on my permissions, I see the data sources that are available to me. I want to compare sales and gross profit. So, to start off, I double-click on Sales, which adds them to summing/averaging/aggregating section of the report.
Next, I want to see this over time, so I double click Invoice Date. By default, this breaks my sales out by year. Well, I want to see my report in months, so I'm going to choose Month, and right there I see sales by month for the whole company.
I also want to see gross profit percentage in the same report. I just have to drag and drop Gross Profit Percentage into my report. I also want a dual axis so that I can easily compare them against each other. So, I just click the dual axis chart, and right there I see orange bars for sales, and a blue graph for gross profit. That's completes my new chart.
Now, I go back to my inventory dashboard where I wanted to add this report in the first place. I want to add this new sheet right in the middle of my dashboard.  So, I just take the new sheet, drag and drop it right into the dashboard, remove the label, and remove the title to make it a little cleaner. Then I click Save and Close and voila, I'm done.
Are you ready for something amazing?  Everything above could have been done on a mobile device.
A True Self-Service Dashboard
Again, the ability for users to make changes like this, quickly and easily, is critical to having a truly self-service reporting platform.
Ready to get your hands on self-service reports and dashboards? Get a free trial of DataSelf Analytics here.
If you want to learn more about self-service reports and dashboards, or about DataSelf Analytics, you can find our contact information here.