DataSelf reduces BI solution deployment time from a month to minutes

Santa Clara, CA – February 18, 2020 – DataSelf, Inc., the mid-market leader in business analytics and data warehousing software, today announced that its Advanced Analytics for Acumatica by DataSelf solution (formerly DataSelf Lite) can now be deployed in less than 15 minutes. Acumatica users just need to fill out a form on www.dataself.com.
"The deployment process is self-explanatory," said Joni Girardi, CEO of DataSelf. "After the data has been uploaded to our cloud, customers' Advanced Analytics comes alive with their information. It's that easy!"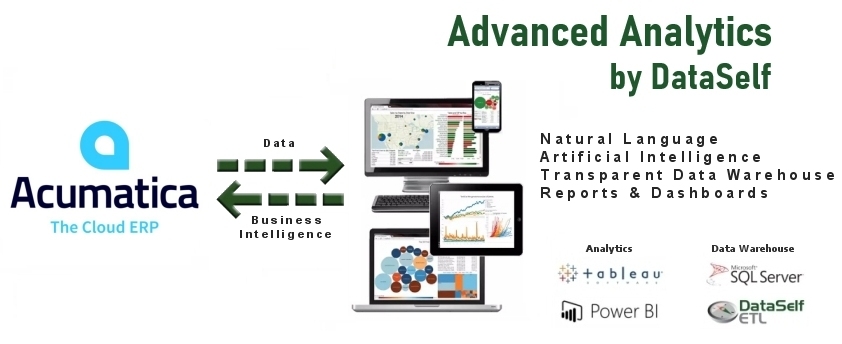 This fast deployment marks a significant milestone in DataSelf's own product evolution timeline.
"Three years ago, DataSelf Analytics deployed in thirty days," said Girardi. "When we launched it in the cloud, it brought our deployment down to five days. Today, we're down to 15 minutes. It's all about making it easy for clients to benefit from a BI platform that otherwise would take months to years to build from scratch."
DataSelf's Advanced Analytics for Acumatica is an entry-level version of DataSelf's enterprise business intelligence and data warehousing solutions that "gives Acumatica users natural language query, artificial intelligence, and over a million ways to slice and dice their data in Tableau and display their results inside Acumatica," said Girardi. It provides extensive data customization, including filtering, drill-down features, and dashboards for Acumatica. Advanced Analytics DataSelf was certified by Acumatica in October 2019 when the ERP company also began distributing the solution.