DataSelf Analytics: Powerful, Flexible Enterprise-Level BI and Analytics Platform
Source: insights success, Apr 2016
Read the full Magazine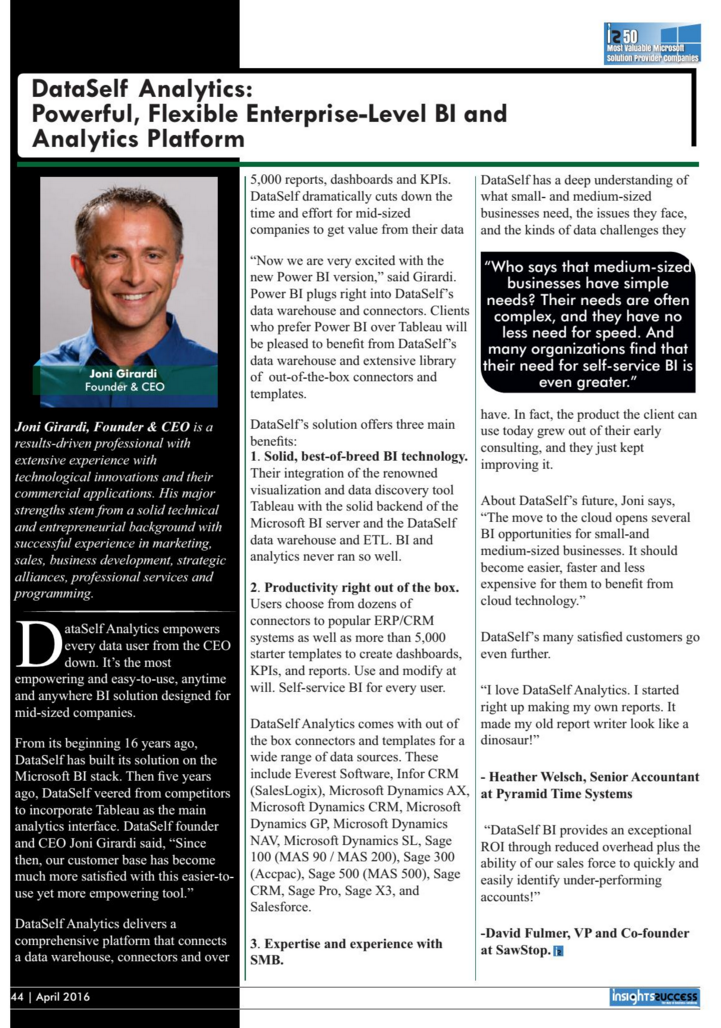 DataSelf Analytics empowers every data user from the CEO down. It's the most empowering and easy-to-use, anytime and anywhere BI solution designed for mid-sized companies.
From its beginning 16 years ago, DataSelf has built its solution on the Microsoft BI stack. Then five years ago, DataSelf veered from competitors to incorporate Tableau as the main analytics interface. DataSelf founder and CEO Joni Girardi said, "Since then, our customer base has become much more satisfied with this easier-to-use yet more empowering tool."
DataSelf Analytics delivers a comprehensive platform that connects out-of-the-box to Microsoft Dynamics and competing ERP and CRM systems. This platform includes a preconfigured data warehouse, connectors and over 5,000 reports, dashboards and KPIs. DataSelf dramatically cuts down the time and effort for mid-sized companies to get value from their data.
"Now we are very excited with the new Power BI version," said Girardi. Power BI plugs right into DataSelf's data warehouse and connectors. Clients who prefer Power BI over Tableau will be pleased to benefit from DataSelf's data warehouse and extensive library of  out-of-the-box connectors and templates.
DataSelf's solution offers three main benefits:
1. Solid, best-of-breed BI technology. Their integration of the renowned visualization and data discovery tool Tableau with the solid backend of the Microsoft BI server and the DataSelf data warehouse and ETL. BI and analytics never ran so well.
2. Productivity right out of the box. Users choose from dozens of connectors to popular ERP/CRM systems as well as more than 5,000 starter templates to create dashboards, KPIs, and reports. Use and modify at will. Self-service BI for every user.
3. DataSelf Analytics comes with out of the box connectors and templates for a wide range of data sources. These include Everest Software, Infor CRM (SalesLogix), Microsoft Dynamics AX, Microsoft Dynamics CRM, Microsoft Dynamics GP, Microsoft Dynamics NAV, Microsoft Dynamics SL, Sage 100 (MAS 90 / MAS 200), Sage 300 (Accpac), Sage 500 (MAS 500), Sage CRM, Sage Pro, Sage X3, and Salesforce.
Expertise and experience with SMB. DataSelf has a deep understanding of what small- and medium-sized businesses need, the issues they face, and the kinds of data challenges they have. In fact, the product the client can use today grew out of their early consulting, and they just kept improving it.
About DataSelf's future, Joni says, "The move to the cloud opens several BI opportunities for small- and medium-sized businesses. It should become easier, faster and less expensive for them to benefit from cloud technology."
DataSelf's many satisfied customers go even further.

"I love DataSelf Analytics. I started right up making my own reports. It made my old report writer look like a dinosaur!"
– Heather Welsch, Senior Accountant at Pyramid Time Systems

"DataSelf BI provides an exceptional ROI through reduced overhead plus the ability of our sales force to quickly and easily identify under-performing accounts!"
-David Fulmer, VP and Co-founder at SawStop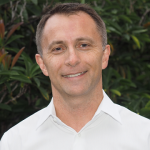 Joni Girardi, Founder & CEO is a results-driven professional with extensive experience with technological innovations and their commercial applications. His major strengths stem from a solid technical and entrepreneurial background with successful experience in marketing, sales, business development, strategic alliances, professional services and programming.