You've got departments hungry for insightful data. We've got easy-to-use solutions to feed every one of them. Wherever your company has a need, we've got a solution. Solutions that are easy to use and flexible enough to fit any organization. And to get started, the complete DataSelf BI solution comes with 5,000-plus must-have reports and KPIs predefined – how's that as a starting point?
Purchasing Analysis
To buy smart, you have to know your purchasing trends. But too often, sales-driven companies don't track them. This module makes it easy.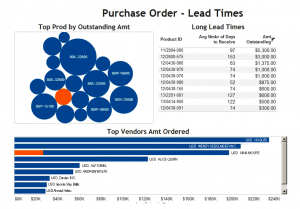 Payables Analysis
Payables analysis is usually the ugly duckling of reporting. Who needs it? You do. Smart purchasing requires smart payables.
Consolidation and Data Integration
Do you need to integrate data from several data sources for analysis? DataSelf BI can do it for you. You may have a multi-company environment or other business applications. DataSelf BI will provide you with a user-friendly and single place for all your reporting needs.
Multi-Currency
Mid-size applications usually provide only limited support for multi-currency frameworks. DataSelf BI can significantly improve the reporting of your multi-currency environment.
The Uniqueness of Your Needs
This is all a great start! However, all modules can be adapted to your specific needs. On average, 70% to 100% of non-technical users can adapt report templates and KPIs without technical help.