We are pleased to announce that DataSelf has been selected as a recommended solution within the exclusive "Fulfilled by Acumatica" (FbA) program.
DataSelf's FbA status assures Acumatica clients of the highest level of software quality standards, synchronized development efforts, guaranteed compatibility, and the meeting of strict data consistency and security protocols.
We are thrilled to announce the latest release of ETL+ boasting over 200 enhancements spanning four crucial areas: cloud data modeling, collaboration, troubleshooting, and support for an intra-firewall configuration.
This ETL+ release further streamlines Data Warehousing for mid-sized organizations and positions users to more easily adapt their reporting solution to their evolving decision-making needs.
Read the press release here to find out more about the expanded functionality of ETL+.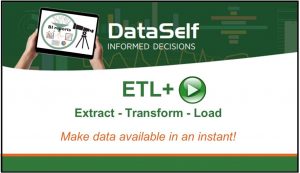 As of August 11th, 2023, DataSelf released new licensing and pricing options. Learn more here.
Additionally, DataSelf Analytics' partner Tableau (a Salesforce product) announced a 9% price increase effective August, 2023. For more information, click here.
September 13-14, ONLINE – virtual event
For the fourth year in a row, DataSelf will be a top sponsor of the acuCONNECT virtual conference, the premier virtual event for Acumatica users and partners. Don't miss this opportunity to attend educational sessions and network with the communicy. Free to attend!
And be sure to mark your calendar for our session on September 13th at 2:50 pm ET: Acumatica with Power BI, Tableau, Excel and more!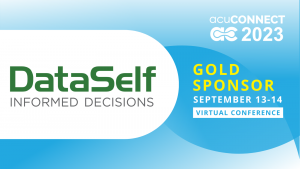 2023 Events!
It has been such a pleasure to get to meet with so many of you at the events so far this year: Acumatica Summit 2023; ITA 2023, Spring Collaborative; JAMIS Summit 2023; Tableau Conference 2023; and Sage Partner Summit 2023!
And more are coming!
What DataSelf Customers are Saying…
"DataSelf unlocks the answers our clients are looking for!"
"This advanced analytics solution will help you identify business issues and opportunities more quickly enabling you to protect and grow your business. It provides our clients the ability to analyze large datasets without impacting the performance of their ERP software. Having the ability to quickly and easily analyze customer & inventory sales data in order to identify changing business trends is a great benefit."
– Mike Augello, i-Tech Support, Inc.
"Take advantage of the website and YouTube videos to learn how Tableau works."
"We needed to get KPIs to management and our sales team that they could access on multiple devices. It is a great solution for getting data to people that they can use to make decisions. Make sure you have at least one desktop version for the person that will be creating reports."
– Jeff Davidson, Associated Energy Systems
"More informed decisions! We love it, our customers do too!"
"DataSelf gives decision makers everything they need to make informed, data-driven decisions. It's easy to use and with a library of thousands of pre-built KPIs, decision makers get a return on their investment almost immediately. DataSelf Corp is responsive and provides excellent support to their customers and partners. Not only do we recommend DataSelf to our customers, but we also use it internally for our own analytics and combining of multiple data silos.
It is a great solution, providing Business Insight for current metrics as well as planning for the future. This is both on sales side as well as our consulting and administrative data."
– Carla Brown, SWK Technologies, Inc.
"Easy reporting for non-technical users."
"The DataSelf team deployed Acumatica for one of our large Acumatica customers. The end users are known to be very detail oriented but they aren't technical. DataSelf's team worked with users who knew what they wanted but couldn't explain it very well. A few back and forth emails and the end users became very satisfied users of Advanced Analytics!"
– Lloyd Smith, Mindover Software
DataSelf offers a number of certified training classes to assist you in getting the most out of your BI solution.
White Belt Training
This class offers a basic introduction to the site, navigation and features within Tableau and available workbooks.
Orange Belt Training
This 4-part course covers an introduction to Tableau Web Report Designer, creating and editing basic workbook views with dashboards and more.
Purple Belt Training
This session is available to those who have completed Orange Belt Training and covers best practices, a deeper dive into workbook design, metrics and more.
Site Admin Onboarding
This 1.5 hour training offers valuable information for: maintaining the structure of projects, groups and users; understanding Tableau permissions; maintaining scheduled tasks; alerts & subscriptions; and reviewing site status.
Blue Belt: ETL+, MS SQL, and Desktop for data feeds
This class teaches users how to add additional data from an ERP or Excel file into Tableau.