Easy access to Sage 100 data anytime and anywhere

Natural language & AI: create new reports in plain English

Transparent data warehousing & Tableau
Includes all features from Advanced Analytics

Full-fledged data warehouse for complex and large data volume needs

Extensive library of pre-configured KPIs

Can integrate data from data silos
Advanced Analytics for Sage 100 by DataSelf
(early adopter phase)
Self-service Natural Language, Artificial Intelligence, and 1,000,000+ ways to slice and dice your data.
Advanced Analytics for Sage 100 leverages a transparent data warehouse and Tableau to displays your KPIs.
Available for popular web browsers as well as mobile devices using Android or iOS.
Highly Customizable
One of the most empowering features in Advanced Analytics for Sage 100 by DataSelf are highly configurable dashboard views and capabilities that give you a nearly endless number of ways to slice and dice data. 
Natural language queries.

Secure access via web browser and mobile device (native apps for Android and iOS) over the internet.

Extensive slice-and-dice, filtering and drill down features.

Geographical trend analysis through maps.

Automatically distributing reports and dashboards to licensed users by email on schedule.

Data alerts (notify by email when a threshold has been crossed).

Export reports via PDF, Excel, PNG, and Power Point.

Save custom views.

Create, modify and publish custom reports, dashboards, and projects (folders).

Access and download underlying data.

Comment feature for team collaboration.

Control user access to reports, dashboards and data sources.

Embed Advanced Analytics pages into other applications via Java code and iFrame.
Pricing

Transparent Cloud Data Warehouse
Requires one Sage 100 user for data extraction.

Upcoming customizations:

User-controlled data warehouse remapping

Changing auto refresh schedule

On-demand data refresh. 

Limitation:

 Data warehouse functions such as additional data sources, data consolidation, cleaning, and preparation are 

not

included. See

Enterprise Analytics by DataSelf

for advanced data warehousing capabilities

Easy upgrade from Advanced Analytics to Enterprise Analytics at any time
The Advanced Analytics for Sage 100 by DataSelf early-adopter phase requires a DataSelf certified consultant for the deployment, testing and onboarding training. In a few months out, we're going to release a self-service version. Users with Sage admin rights will be able to deploy the solution via a simple, and wizard driven process that should take should take less than 20 minutes.
System Architecture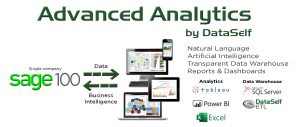 Advanced Analytics by DataSelf leverages transparent data warehousing, optimized Sage 100 ETL (extraction, transformation and loading) processes, AWS (Amazon Web Services), Tableau (and Power BI soon), and a rich set of templates to Sage 100 to deliver natural language query, artificial intelligence, machine learning, and insightful and interactive reports and dashboards!
It's easy to customize the solution to your specific custom needs. Tableau provides a robust, secured, easy-to-use, and well documented analytics interface. At the end of the day, users can easily customize the data extraction, create and modify their reports and dashboards, and control user security access. What's more, it takes a few hours to deploy.
Dashboards for Sage 100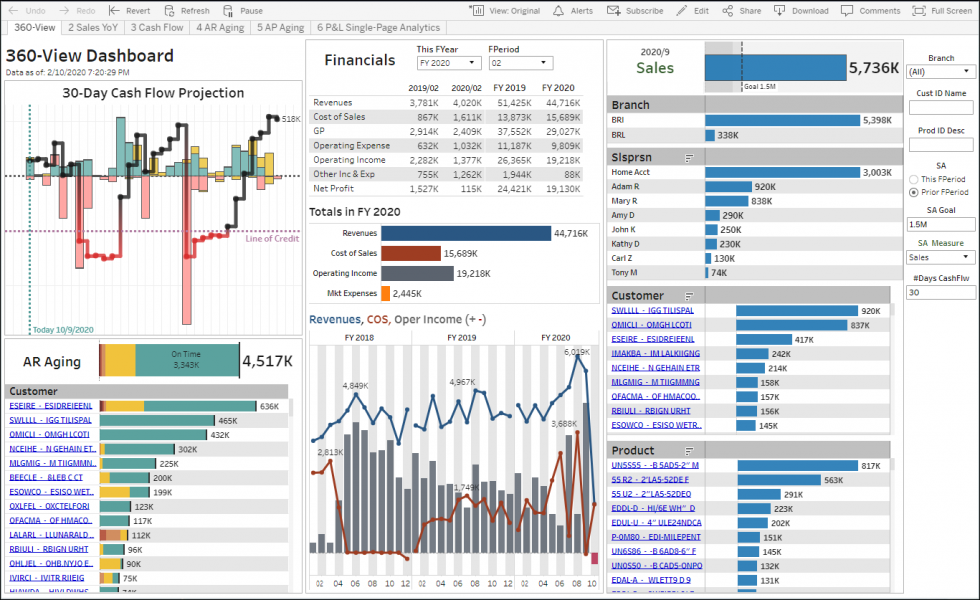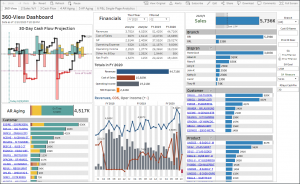 Core Financials Edition (under construction)
Distribution Edition (under construction)
Manufacturing Edition (work in progress)
See other Sage 100 dashboards available with Enterprise Analytics by DataSelf.
Sage 100 BI OptionsAdvanced or Enterprise Analytics
Easy access to Sage 100 data anytime and anywhere

Natural language & AI: create new reports in plain English

Transparent data warehousing & Tableau
Includes all features from Advanced Analytics

Full-fledged data warehouse for complex and large data volume needs

Extensive library of pre-configured KPIs

Can integrate data from data silos

Using natural language for report and dashboard creation.
Must-have reports and dashboards for unparalleled insights.
Advanced Analytics and Enterprise Analytics for Sage 100
Contact our Sage 100 BI Experts!
Fill out the following form and one of our cloud analytics experts will contact you shortly.