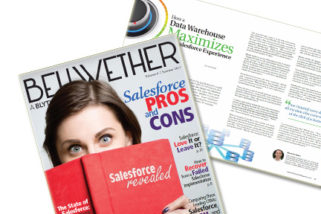 Bellwether Magazine, Summer 2017 -Many of our customers use Salesforce, and we hear their accounts down the long journey.
We hear about their successes first — how Salesforce's rich features monitor sales like nothing else, and how the vibrant support community helps in countless ways.
As they take Salesforce deeper, though, we hear about what many of them come to see as obvious: sales and all other parts of the business work as parts of a whole, and the data has to reflect it. That means, for one thing, that sales data has to be seen alongside data from other systems, such as Excel files, payroll, and ERP systems.
One executive to have confronted this is David Wieder, the sales manager at NPC Global, a New Jersey-based logistics provider.
Wieder has a rule: Never initiate any metric you can't track. "If you say you'll track wins per RFQ," he says, "you'd better be sure you'll track it regularly and that it's meaningful to you and your sales people." His job, he says, is to watch what makes a difference.
"We're pushing for behavior," He says. "What are my sales people doing, and how does that compare in sales? A given number of calls, attempts, meetings and RFQs should mean a proportionate number of sales. When the proportion is lower than they expect, they say something like, "Hey, we're losing this. Maybe we're not buying right."
To Wieder, trackable means at a click of a button. "Digging through records and multiple interfaces never works," he says. For each of his 14 sales people, he spent 30 minutes pulling records together in Salesforce. "You just don't do it."
But the challenge was beyond that. He needed some way to combine Salesforce data with ERP, and Excel files. Salesforce Reporting did only one part of that.
Invoice research. They also found it too time consuming to research invoices. Wieder says, "Customer calls up, says, 'Hey, I bought a 7-by-10 from you last year. What was the price then and what is it now?' The salesperson has to look at every invoice, click, and drill down."
Quick comparisons, period by period. Wieder confronts a recurring scenario: Every month, each salesperson wants to know how they did in the same period of the previous year Often, they give up before they get the report.
What, no ERP data? Common sales metrics include close ratio, ratio of come-through, etc. "But how can you track the win ratio," Wieder asks, "if the actual sales is in the ERP?" He recalls an opportunity of $100,000 but an actual invoice of $10,000, which skews the KPIs dramatically. "If actual sales are not in Salesforce," he says, "how in the world can you track win-ratio?"
Issuing challenges to sales people. He challenged reps to close more deals based on new customer acquisitions. But to find the winners, he had to print a 20-page report for every sales person. He could stand to do that only every six months or so. Now with the new solution, that report runs in 10 seconds.
It also helps me analyze hidden trends. One distribution customer, for example, had an impressive $1 million in sales. But a deeper look revealed a big drop in sales. Wieder's team caught it early enough to win a reverse of that trend. Before, that would have been impossible.
Forecasts with sales activity vs. actual sales. Without integration of Salesforce sales activity and actual sales from his ERP system, his forecast reports were incomplete. He wanted reports broken down by Salesforce sales activities, ERP actual sales, and new customers with forecasts from Excel files. That would show what he was expecting from everyone. He also imagined how effective those reports were seen in two ways: in email to each sales person and on an office display.
"Everyone should have it in front of their face." Who's on top, who's doing the most attempts, who did the most work this week and last week, who's on top, who's doing the most cold calling. "It pushes reps to do more."
Wieder and his CEO began their search for a solution.
A common approach is to reach for an add-on to an existing tool. But NPC Global understood the main challenge: Putting add-on upon add-on adds short-term capability, but in the longer term would burden them with complexity. They would have a real mess in the long run.
They decided that the best option was the strategic one: one tool that integrates Salesforce, ERP, Google Analytics, and any other type of data: a data warehouse.
A data warehouse is good for today and good for the long haul, too. Data from all sources gets held in an analytics-ready state — trusted, consistent, and permanent. It integrates from all sources and all departments, so that data from any one source has the same format as all other sources.
Building their own data warehouse, they knew, would only distract them from sales. With the help of their Sage reseller, they found DataSelf Analytics, which comes with a pre-configured data warehouse for Sage and Salesforce. It also comes with a ton of canned reports in Tableau — Gartner's top-rated visual analysis tool for each of the last four years. The time to deploy and the cost were no brainers.
"I use DataSelf everyday," Wieder says. "Now all my data silos come together at the click of a button. I can't imagine working without it."