DataSelf does data discovery and reporting – the right way
Reporting used to be all there was to knowing your business. Now data discovery tells you what your data's been hiding from you. Data discovery is actually easy – with the right tools.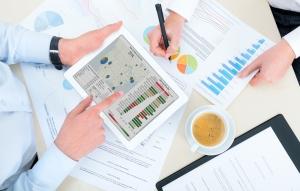 Think of it this way: Reporting is like writing letters. Data discovery is like a good conversation – starting with your best question at the moment. Instantly, it gives you the answer in beautifully visualized data that you grasp at a glance. That answer inspires more questions, and you follow a cascade of questions and answers into deeper and more satisfying insights. 
Interrogate your data with rapid-fire visual analysis. DataSelf is bringing data discovery and traditional reporting together by leveraging Tableau – the renowned data discovery leader that's embedded in DataSelf Analytics – which gives you data that's visualized for instant understanding, all based on advanced visualization science. 
Data that flows as fast as you can think. Under the hood, Tableau thrives on DataSelf's fast, muscular data engine. The data just keeps coming, thanks to DataSelf's deep expertise in data for mid-sized organizations. 
A full solution out of the box. DataSelf reporting and data discovery solutions come with more than 2,000 reports, dashboards and KPIs. They are designed and priced for mid-sized organizations.