"Being an old dog, I know software that meets one's expectations is rare. DataSelf BI has far exceeded mine. We bought it for its world-class sales reporting, and now I'm saving up to $500,000 annually because I also use it to manage my inventory and purchasing more effectively." John Barrett, COO at Wiley X, Inc. 


Company
Two decades ago, start-up Wiley X Eyewear entered an almost nonexistent niche — safety glasses and goggles. Approached by the FBI to develop shooting glasses, the company soon found itself making protective eyewear for the U.S. military. Business mushroomed after September 11, 2001, when American troops were mandated to use protective eyewear. Wiley X has sold more than two million units for Operations Enduring and Iraqi Freedom to date.
Wiley X now sets the benchmarks for safety, style and utility, with all of its eyewear products meeting or exceeding ANSI requirements for high-velocity impact and/or military ballistic impact. Most of its eyewear can be fitted with prescription lenses. Its products, including a new line of tactical gloves, are also popular among weekend warriors for shooting, motorcycle, ATV, biking, skiing and other outdoor sports.
Challenge
When COO John Barrett joined the company, production and inventory planning were run by "seat-of-the-pants." Barrett and his team had little data available for everyday decision making. The accounting system provided virtually no useful reporting.
He recalls, for example, the old way of discontinuing a model: "blowing out" the overstock — worth from $10,000 to $200,000 at full retail — through discounters.
Also brutal: "If you run out of stock for 60 days, you'll feel the effects for the next six months," he said. "Retailers switch to other products, and their loyalty to your brand evaporates. Bad inventory management costs a ton."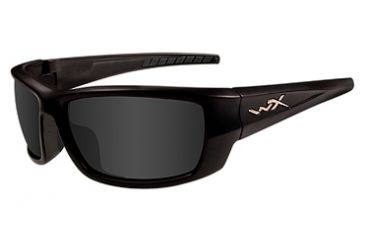 Solution
Barrett turned to DataSelf BI for inventory management and sales reporting. Among many improvements in operations, Barrett initiated a Monday morning production meeting. With DataSelf BI reports on hand, managers review sales trends by channel and product, then predict needs and issue production orders. Wiley X has also used DataSelf to calculate complex sales commissions.
Benefits
DataSelf BI saves Wiley X up to $500,000 a year, estimates Barrett. "To manage inventory so precisely, and to avoid making a bunch of production errors, that's huge." Also, retailers receive what they order, and salespeople happily watch their commissions grow.
Barrett's team has become expert at phasing out products. By the time a new catalog goes to press, old stock has just about run out. "We no longer need to hunt for discounters to take inventory off our hands," he said.
"It's one of the coolest pieces of software I've ever used." said Barrett