DataSelf was founded with the vision the vision of simplifying and amplifying best-of-breed BI technology for mid-size companies. The latest Gartner Magic Quadrant for BI further validates that vision.
The DataSelf solution includes technology from two leading upper market BI providers: Tableau and Microsoft. According to Feb-2014 Gartner's Magic Quadrant for BI and Analytics – see picture – Tableau is currently considered the best provider of data visualization and dashboard technology, while Microsoft is considered the best provider of BI infrastructure. By using DataSelf's ETL (extraction, transformation and loading tool), DataSelf simplifies the deployment and maintenance of a solution that combines the strengths of both Tableau and Microsoft BI.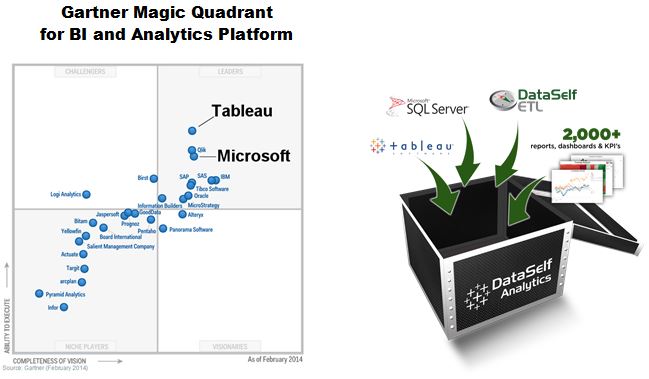 Through the addition of a unique, proprietary library of over 2,000 reports, KPIs and dashboards, DataSelf amplifies the value of this software platform. Customers won't need to build connectors and reports from scratch, as they can simply customize and build on top of their existing templates.
DataSelf includes a variety of critical differentiators:
Ease of use: A rock-solid, easy to use, simplified and amplified BI platform based on Tableau and Microsoft BI.
Fast deploy time: Normally in hours or days, rather than the months or years typically the case from DataSelf's competitors.
Expertise: DataSelf's core team has over 14 years of experience working with mid-market ERP and CRM systems and connecting those systems with leading BI software. DataSelf's professional services team possesses extensive knowledge of ERP and CRM multi-company setups, and is well-versed in BI tools and their inter-connectivity into one core platform for mid-size companies.
Low Cost: A DataSelf solution typically costs a fraction of competitor offerings.
Because we use best of breed components, we call our solution the Ferrari of analytics for SMBs. I couldn't be happier with Gartner's latest report!
You may find the whole Gartner's report here: http://www.tableausoftware.com/gartner-magic-quadrant-2014.