Why Salesforce BI?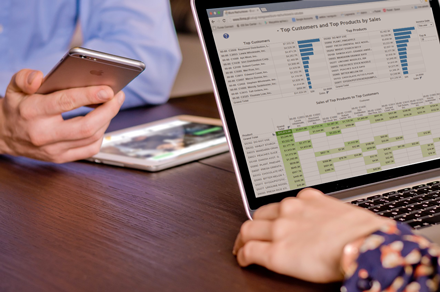 You know that Salesforce excels at customer relationship management (CRM), yet you may feel that its built-in reporting doesn't provide the visibility you need. A flexible and robust business intelligence solution for Salesforce is missing! DataSelf Analytics fulfills that role with Salesforce BI by adding extensive reporting agility and depth, simplifying and amplifying your analytics requirements by incorporating Tableau and Microsoft BI technologies, providing exactly what you need to turn your data into knowledge.
DataSelf Analytics provides capabilities that go beyond Salesforce and Excel-based reporting, allowing users to analyze data extensively and easily. For instance, when doing sales analysis, users can analyze opportunities and profitability by parameters such as account, account manager, campaign, lead source, opportunity status and region, thus providing a variety of performance measures to better understand where to focus management's attention.
DataSelf Analytics Rapid ROI
• Easy to use: On average, managers tackle 70% or more of their reporting needs without IT support.
• Fast: It runs reports and dashboards in seconds regardless of the size of your databases.
• Salesforce Business Intelligence is a virtual "consultant in a box" with 1,500 must-have reports, dashboards & KPIs for Salesforce, plus another 4,000 KPIs for other areas of your business such as financials, inventory, payables and receivables.
Major Benefits of Salesforce BI
• Easy and secured access to your data over the internet. We leverage leading edge data warehousing, in-memory analytics and cloud technology to empower decision makers to make informed decisions anytime and anywhere. Reports land on your email, web browsers or mobile devices automatically (Windows, Mac, iOS and Android supported). No more waiting for outdated reports and dashboards.
• A mature BI system with over 1,500 report and dashboard templates for Salesforce: The result of years of development and serving organizations like yours. While each business is unique, there are lots of reporting needs that are pretty common across many organizations. For instance, do you have questions about your customer sales trend? You'll likely find perfect answers among our 400+ reports and dashboards for customer sales, or answers will only require simple template adjustments.
•  A robust and flexible enterprise-grade data warehouse framework to consolidate all of your data silos: Have you ever wondered why your team spends so much time preparing data for reporting purposes? Why it takes so long to refresh your reports? And why sometimes different reports with the same metrics don't match? All of these issues can be easily tackled with data warehousing. Data warehousing effectively automates repetitive manual processes, optimizes data for fast performance, and brings all of your data together for a single version of the truth. DataSelf has been refining and leveraging the latest data warehousing technology for over a decade so your team can focus on data analysis instead of data preparation.
• Deploys in a couple of hours!
Popular Videos
• DataSelf Analytics introduction  (90 secs): https://www.youtube.com/watch?v=LBfU-fG1cqU
• How analytics can improve sales teams efficiency (7 short videos): https://goo.gl/MQQ5T5
Salesforce Business Intelligence: Powerful and Affordable 
DataSelf Analytics was built from scratch based on 18-plus years of experience helping organizations implement business intelligence. We wanted a better solution than we could find on the market, so we made one ourselves.
DataSelf Analytics provides a wide range of high-end business intelligence benefits for Salesforce. Using industry-standard components comprised of Tableau and MS SQL Server, users can then take advantage of features such as self-service BI, data discovery, in-memory analytics, budgeting, dashboards, data mining, data warehousing, ETL (Extraction, Transformation and Loading), forecasting, KPIs (Key Performance Indicators), multidimensional analysis and MS Power BI.