BI for Acumatica
We came away from Acumatica Summit 2018 in Nashville greatly impressed by their well-deserved market growth. We learned first-hand that many clients would greatly benefit from a best-in-class data warehousing and analytics solution—and that's where DataSelf really excels! We came back on a mission! We should complete our support for Acumatica in weeks. Stay tuned!
DataSelf Cloud Analytics provides an easy and fast way to get actionable information in the hands of your team. CEOs, CFOs, salespeople – actually anyone with proper authorization – can securely access and slice and dice their reports over the internet. 7 mins.
On the Road
We just got back from Sage Sessions in Los Angeles, and had a great time connecting with many resellers, customers, and Sage personel. Next week we are headed to Canada for TPAC 2018, and then to San Diego, CA for Meeting Of The Minds 2018. At both events we'll host a session about our analytics solution and an exciting new product release. We hope to see you soon!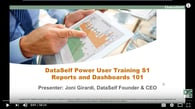 15 short videos with basic query techniques for DataSelf Analytics Power users (Tableau Server users).
Planning the year ahead? Wondering what's happening in your business? BI tools for Sage 300 can provide the answers you need. Our friends at Net@Work shared a great blog on this topic and we wanted to be sure you saw it. Read more 
DataSelf's CEO Joins Microsoft's Power BI Advisors
We are thrilled to announce that Joni Girardi, DataSelf CEO, has joined Microsoft's Power BI Advisors group. He looks forward to serving the community and representing mid-sized organizations' interest in Power BI and the Microsoft BI stack.