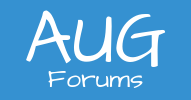 Advanced Analytics for Acumatica by DataSelf
Self-service Natural Language, Artificial Intelligence, and 1,000,000+ ways to slice and dice your data.
Try it out for yourself with our free no-risk 30-day trial. You can deploy Advanced Analytics in under 30 minutes and see for yourself all the great insights hiding in your own data!
Benefits
Build your own reports, dashboards and KPIs
Dozens of must-have reports, dashboards and KPIs out of the box
Automatic distribution of reports
Deploys in minutes
Fast (freaking fast, really!)
Data warehousing, Natural Language Query, Tableau, DataSelf ETL+
Starts at $399/month
To take advantage of the exclusive offer for AUG Forums: click the Deploy Analytics Now button below, fill out the deployment form, enter AUGForums in the "VAR or Deployment Code (optional)" box shown right after the total price of your subscription (total price of your subscription only applies if you decide to keep the system after the free trial period).
Dashboards for Acumatica