Win a Ferrari drive of a lifetime from DataSelf Analytics!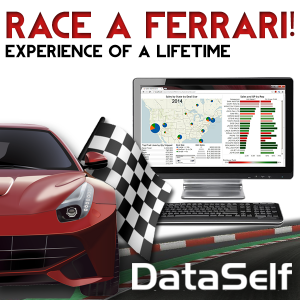 Entering is simple!
Earn drawing tickets by doing the following during the promotional period:
· Purchase or subscribe DataSelf Analytics: see rules for number of tickets;
· Evaluate DataSelf Analytics for your business: 1 ticket;
· Attend one of our webinars (register here): 1 ticket;
· Engage with DataSelf in LinkedIn and/or Twitter: 1 ticket for becoming a follower, 1 ticket for every 5 DataSelf mentions;
· Mention DataSelf in a blog post or article of over 400 words: 5 tickets.
Full rules and promotion period details are available here.
So get posting, blogging, sign-up for a webinar, purchase or evaluate DataSelf Analytics so you can have a chance to win your drive of a lifetime!